Are you aware the Irish government has introduced new Irish Microchipping Regulations for all dog owners from the start of September this year.
This means that all dogs have to be microchipped and registered with a government recognised database – such as Fido.ie; and in possession of a 'Certificate of Compliance'.
I hear you ask what is this? Well we were just as confused as you are now – so we thought we'd do some research on the topic ourselves – because to be honest – we haven't heard anything about this new policy and there has been some information doing the rounds on Facebook.
Some points to note:
So from 01st of September 2015 all puppies must be microchipped and registered on an approved database (fido.ie) before they are moved from their birth home.
Adult dogs have until 31st March 2016 to get microchipped & registered. The certificate of Compliance is required as proof.
Dogs Trust has put together a very handy info sheet to summerise the facts: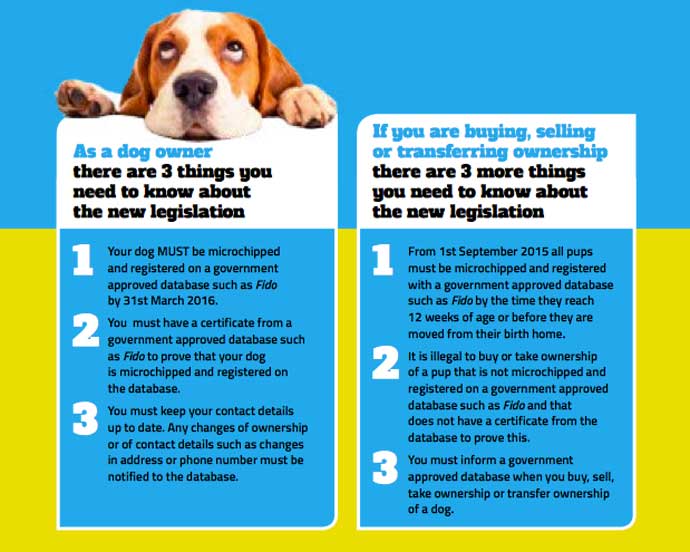 Dogs Trust executive director Mark Beazley has this to say:
Dog owners need to be very vigilant over the next number of months in anticipation of this new law. Under the new law, you will be required to not only have your dog microchipped but to ensure your details as the owner are up to date with a Government approved database. Dog owners must ensure the correct data for their dog is registered or their microchip is essentially useless. We have led the national microchipping campaign for many years now and have seen huge progress in responsible dog ownership as a result. Were once again delighted that we can offer free microchipping to dog owners across Ireland.
Most adult dogs who are microchipped already are done so via fido.ie – like Ollie & Penny – our dogs. We have been on there today to check what they are saying and what the procedure is for requesting this 'Certificate of Compliance'.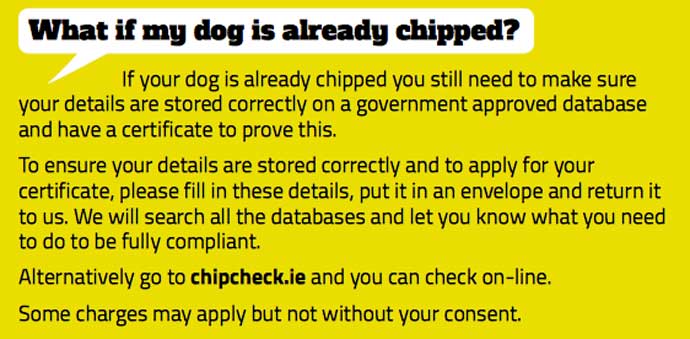 We found it was very straight forward. Log into your existing fido.ie account as normal, a list of your dogs will show up. Always good to re-check the information to make sure it is correct (…especially your address – which is located under a separate tab labelled 'account'). Click on the edit button beside your pet – you will see a section to tick a box to request the certificate. Click this and save. It then says 'Beingcheckedby Fido staff'.
So far we have not seen anything mentioned in this process of a 'fee' to be paid for administration – as indicatedin he above article and leaflet by Dogs Trust.
We'll keep this post updated with details on the process. If you're interested in the above leaflet by Dogs Trust or the newMicrochipping of Dogs Regulations 2015 law, I've added links below to both!
Dogs Trust Microchipping Leaflet(Right Click, Save As to download)
Microchipping of Dogs Regulations 2015(Viawww.irishstatutebook.ie)
Update: 15 th Spetember 2015
So we got an email from fido.ie shortly after requesting our certificate. It stated all information was correct and for them to proceed to issue our certificate we would have to pay an admin charge of e4.50 via their website. Make what you will of this – we feel it's an unnecessary charge for a service we've already paid for before.
On a side note, 4 days after doing this process a dog warden called to our home to check our dogs licenses. Coincidence? Maybe. We'd love your thoughts.

Tags:
Share on:

SHORT URL:
http://www.olliespetcare.com/oxxWK
Leave a reply: