We provide you & your pet with

convenient

trustworthy

experienced

professional

petcare, 365 days a year!
| | |
| --- | --- |
| Why choose Ollie's Petcare? | |
We have been looking after our clients dogs, cats and rabbits for over 4 years now - we love what we do and look forward to seeing our fury clients each day! Your pets will be part of our family when in our care and will be treated as our own! We have completed a certificate in Canine First Aid via Dog Training Ireland – so are confident that if there is an emergency we can look after your pet! We have highlighted a few points that may be of interest below:
Online Account
New for 2015 and our new website is the online client account area! We have just launched this for our clients and we hope it will help clients to manage their everyday schedules and to make bookings with us. We have been working on this for a long time and are very proud to at long last have it active! We are the first Irish petcare business to offer an online account for its clients! Our clients can now see their current schedule of services for their pets - in list form as well as set out in an easy to read calendar; past and present bookings with easy online payment options; personal information as well as their own personal notifications!
The client account pages are secure & private….but you can take a sneak peak below: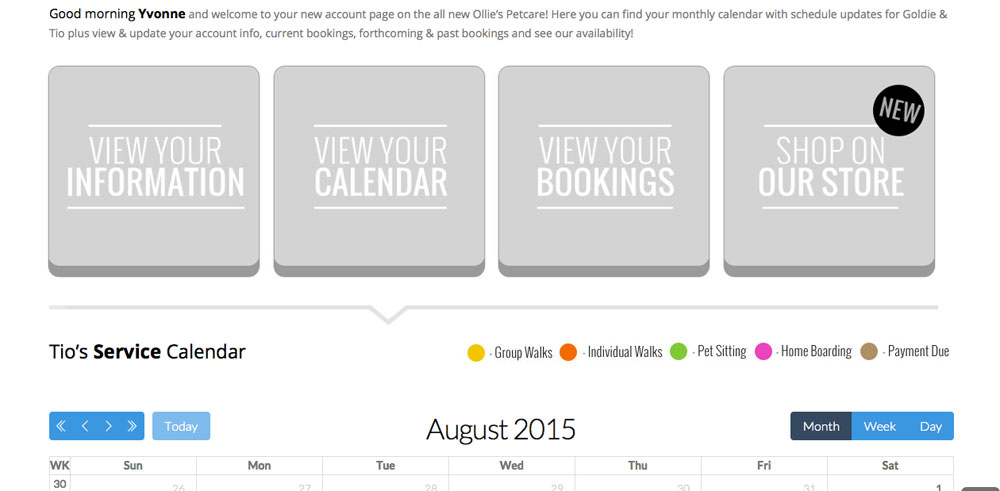 Client References
Ollie's Petcare is fully insured and we can provide excellent references for a local professional, reliable, efficient, flexible & above all else friendly service for you & your pets needs! I have been brought up with animals in our family all my life, from dogs & cats to hamsters, rabbits, guinea pigs, mice & fish – with Ollie, Bubbles & Lady being our current family pets. We are here to make sure your pets are cared for in the same way you'd would if you were here! Please visit our client references page to read what our client have said about us and the service that we provide to them
Here are just a few of our recent references:
It is my pleasure to provide a reference for Jonathan. He has given exceptional care to my dog Pippa for the last three years. Jonathan came to us through a referral from our previous dog walker who was relocating to London. Pippa is a very energetic 6 year old Labrador retriever who needed someone to come walk her during the day while I was at work. Jonathan proved to be capable and responsible as well as a good communicator. During this time, I had no issues with the services he provided. I recommend anyone that is looking for a pet walking service to rely on Jonathan for these services. I was fully satisfied and felt confident that my dog was in the best hands.
It's been just over a year since I started using Ollie's pet care and I really have found Jonathan to be nothing short of fantastic. Charlie is a huge Weimaraner and is still young, very much a handful however Jonathan is do good with him and it is a relief to have someone trustworthy to look after him while I'm at work. He comes in all weathers and Charlie just adores him. My work gets switched around sometimes and Jonathan is usually very obliging if I have to rearrange a walk here or there. Would definitely recommend the service highly. Love the photos on Facebook too!
We also provide our four pawed clients with lots of unique products & tasty treats in our online store - Ollie's Pet Boutique; stocking new brands to Ireland like Fellipet, Pooch & Mutt, Fat Cat plus supporting Irish brands Soopa & EcoMutt; plus many more!

Great experience with Ollie's Pet Boutique. My order arrived really promptly all wrapped up in pretty tissue paper with a lovely note attached thanking me for my order. Great service. Well done.
- Jacqueline F





We've made some friends and we're

excited

happy

thrilled

to tell you about them...
Ollie & Penny want to recommend their services & products. Lets meet our colleagues & friends: