Welcome to the new Ollie's Petcare website!
Hello everyone – and welcome to a brand new Olliespetcare.com! We've been working on this for a long time on & off with different ideas and plans – we've had some set backs with losing files and not having back ups – but its here now – a fresh update for 2015!
As you can probably see already, it's a completely different layout and design to our previous website – so it might take a little while to get used too – but we do feel it is a fantastic update andin keeping with our style! All our regular sections are here – along with a few new ones! You can find all sections in the main navigation menu atthe top of each page – this is how you can get around the site and it will always stay in view!
We have 5 sections to the new website – you can find all these in the menu: About Us, Our Services, Info, Blog & Shop. You also have a client login link next to these which we'll be explaining over the coming weeks.
We'll leave you to explore now, but we'll be bringing you detailed posts here on the blog over the coming days detailingeach updated section with an overview of where to find it and what information can be found in it!!
Until then – woofs & licks!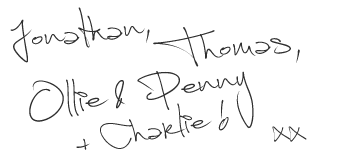 News, Ollie, Olliespetcare.com
Share on:

SHORT URL:
http://www.olliespetcare.com/H0REx
Leave a reply: