T
oday we are going to take a look at home boarding in some detail, as believe it or not we do get asked a lot of questions about our home boarding service and there seems to be a bit of confusion about it – in particular to whether or not it's a good option for your dog.
So what is home boarding?
This is a good place to start. Home boarding is a service offered by many pet loving homes across the country, including ourselves and it is when you take your pet to stay in the home boarders own home while you are away. Your home boarder will look after your pet like one of their own, in their home and often with their own dogs or pets. They can provide very specific care to any directions or requests you give them.
The Advantages of Home Boarding
It's probably quite obvious already as to some of the advantages of home boarding. The main one is your pet will have individual direct care by someone who generally knows and is confident in taking care of animals in a home environment.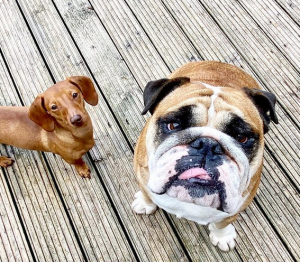 Your pet will be able to have all their home comforts with them and familiar toys around them as well as plenty of one on one attention and social interactions. This can be in contrast to the alternative kennel environment which can often be quite stark and cold.
Most home boarders will also provide easy and regular updates on how your pet is doing while your away – which will always make leaving them that bit easier.
There can be some disadvantages to home boarding that you should take into consideration when deciding on it for your pet.
The Disadvantages of Home Boarding
The big point to take into consideration with home boarding, as well as with other choices, is that your dog will still take a bit of time to adjust to his new environment. He may be staying in another home and it won't be as hard a change as kennels, but they will still take time to settle in which could be stressful.
Another thing to consider is if you have more than one dog or have other pets. Some home boarders will only board one dog/pet at a time, so you will need to find other accommodation for your other pets which makes it more stressful and complicated for owners.
Home boarders may also have their own dogs/pets that your dog might not get along with. Also it may occur that they don't get along with your dog either.
As your dog will be in new or most often unfamiliar surroundings you also need to make sure your chosen home boarder has a secure garden. Dogs that are in unfamiliar surroundings can get stressed and subsequently 'spooked' – if they get out they may try to make their way home.
We try to help with this issue by only boarding dogs in our home that know us and our dogs already from our dog walking services. We find this really helps them settle in very quickly and feel more at ease and less stressed. We also encourage trial sleepovers before coming for a full stay to determine how well dogs are suited for home boarding.
How to find a good home boarder…
If you are going to proceed with home boarding the next thing is to find someone who is reliable, trustworthy and highly recommended – you are going to leave your furpal in their care after all!
Good pet care professionals are hard to find. Many businesses or individuals have popped up in recent years and most are providing services as a second income. You really need to do your research and ask questions. Here's a few that will help you get started…
1] How do you assess the suitability of dogs for home boarding?
2] Do you have any other dogs or pets, such as cats?
3] How many other dogs will be in the house?
4] How long will my dog be left alone in the day?
5] Where will my dog be sleeping?
6] Who else has access to your home that will be in contact with my dog?
7] Is your house & garden secure?
8] If you become sick who will care for my dog?

Ollie's Petcare offers home boarding to our existing clients and small to medium dogs on request. Do get in touch will is here if you want further information or to enquire about availability.
If home boarding is not for you – whats your alternatives?
If after reading this you think home boarding is a suitable option for your dog then don't worry you do have other options.
Pet Sitting
Pet sitting is an option and also a service we offer. It is a very popular option and one where a pet sitter will come and visit your home as many times as you need per day to keep your dog in their usual routine. They will feed & play with your dog and also take them for a walk as well as looking after any other pets you may have. The added benefit of pet sitting is your dog will stay in their own home eliminating any stress associated with boarding. As an added extra, pet sitters can often do other household services like taking care of post, bins and opening curtains – this will give your home a lived in appearance while you're away.
Live-in Pet Sitter
Like the above pet sitting, except as the title suggest live-in pet sitters live in your home while you're away. This is an good option for dogs or pets that don't like to be alone overnight. Pet sitters can stay with your dog overnight and visit them like above during the day or they can say 24 hours.
Kennels
Not a popular choice for most owners and their dogs but none the less the traditional choice and more than not the only choice for a long time. Basically kennels work by the owner dropping their dogs of at a custom build complex dedicated for animals and then collecting them again when they arrive home. There are a lot of pros and cons for kennels which I'm not going to discuss today. Some dogs love them but most find them too stressful. If you do your research you can find some lovely kennels around the country.

Tags:
Share on:

SHORT URL:
http://www.olliespetcare.com/N7rjg
Leave a reply: