Over the last few months dog theft in Ireland & the UK has risen to a staggering high, with the blame being firmly placed on Covid-19, the lockdown and subsequent free time and increase demand for dogs, puppies and in particular certain breeds.

It's heartbreaking to see the constant flow of 'missing' or 'lost' dogs posted on social media pages daily, with no end in sight. Recently after a lot of pressure DoneDeal & Adverts have removed their dog listing sections. Although be it for now a 'temporary' measure, many hope this will stay in place. DoneDeal is a topic for another day – but I would be amiss not to mention it as this is where some of these 'missing' dogs end up for sale – with no come back on DoneDeal.
Going back to the main subject of dog theft; i'm sure you've all seen the numerous posts on Facebook of the guy/family from northern Ireland doing the rounds who is said to be responsible for many of the thefts. From sussing out houses with dogs, to marking them with chalk, or tags on bins to jumping walls, drugged spiked meat thrown over gates and grabbing dogs on the street as well in local parks – he and others have many tactics we all need to aware of at the moment. It's a wary time to be a dog owner – we have to be extra careful.
The Garda released a poster (as below) with a number of tips to be aware of to help keep your dog stay safe from thieves. In my opinion some of the points are a bit 'MWEH' & don't go far enough so I've added our thoughts to them below. Remember, above all else, always be aware of who is around you & your dog when out walking or around your home.

Get Your Dog Microchipped
Well to be honest your dog should be microchipped already at this point. It's been the law here in Ireland to microchip your dog since 2015. If you dog isn't microchipped do it now at your local vet. It's cheap, quick and easy. If your dog is alreasy microchipped please check that your details are up to date on the database, ie fido.ie
Whether out walking or in your own garden, never let your dog out of your sight and never leave them out at nighttime. Dogs are being lifted from front & back gardens, especially at night if left outside. Take your dog inside.
Not one that was on my radar, but a good consideration if it's something you can afford. It would definitely defer thieves and make your home more secure. I would also add to this that basic padlocks and secure locks on gates and access points to your home would also be good; so do take a look at these and make sure all are fit for purpose and working correctly.
I think this can be expanded into 'don't be creating' easy opportunities for the thieves to snatch your pet. Than means, as above, don't be leaving them alone at all (…at the moment). Leaving your dog tied up outside a shop is never a great plan. If you're planning on going to the shop then don't take your dog with you or bring some else to stay with them outside the shop until your return. Thieves have always prayed on this scenario, it's not new, but it is an easy opportunity for them.
As the Garda say, report any theft straight away without delay. Time is of the essence here. Get the info the the Garda and take it from there.
Buy From A Trusted Source
I'm not sure I personally follow this point by the Garda.

I guess they mean be aware who you're buying your pet off – that the dogs/puppies are not stolen. Make sure you see the mother, all puppies, home and relevant documents. All puppies should have been microchipped before going to their new home. Please check that if they're microchipped that you have the information to update the chip details. Never buy from car parks, boots of cars etc and remember most reputable breeders will only be too happy to answer all questions and will generally have a waiting list.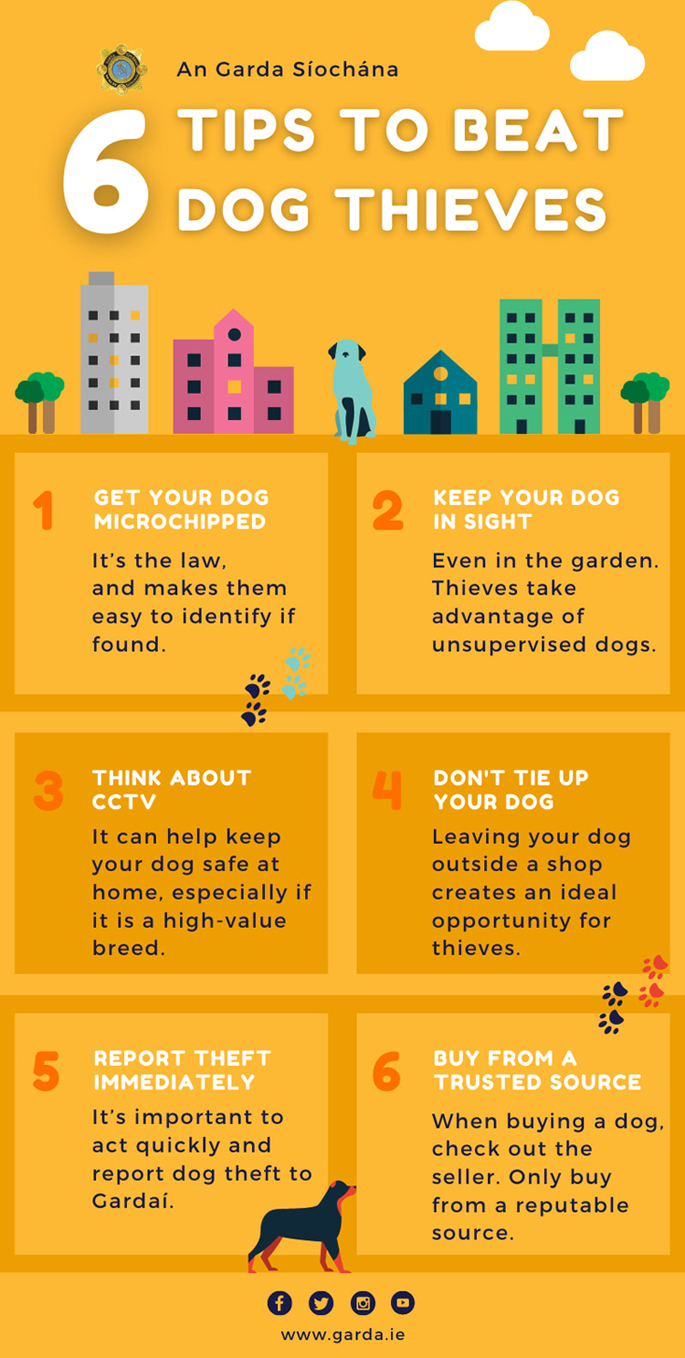 Source: Garda.ie

Tags:
Share on:

SHORT URL:
http://www.olliespetcare.com/illmQ
Leave a reply: